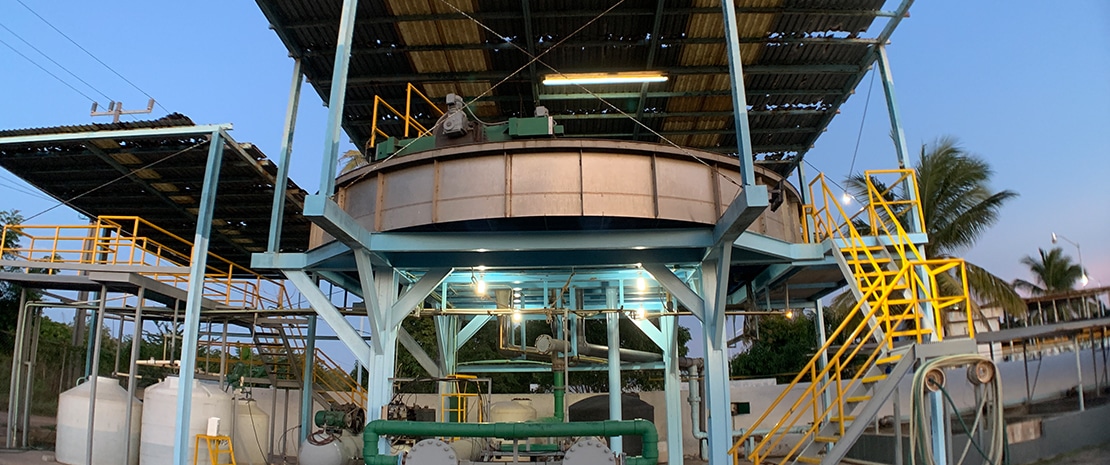 BioDAF is committed to designing sustainable projects that ultimately solve the problem of water pollution in our ecosystems and deliver better results for our clients.

With our proven water treatment technology, BioDAF provides custom solutions and successful outcomes for our clients' very diverse needs and industries.
Goals
To conserve fresh water by cleaning and recycling it.
To be recognized as a leading provider of water treatment solutions across the globe.
To create a service-based company that exceeds customers' expectations through superior performance and word-of-mouth referrals.
To create new and better solutions for our customers through technology leadership and innovation.
To meet our customers' needs by providing economical, and environmentally friendly solutions.
Core Values
Customer Oriented  – We dedicate our efforts to meet and exceed our customers' expectations.
Sustainability – We operate by positively contributing to environmental and social development, both short and long term.
Interest in People – We promote a respectful work environment for our employees and participate in their professional development.
Integrity – We treat our customers and employees honestly, ethically, and with dignity.
"We understand there is no silver bullet for water treatment. BioDAF develops a custom solution for every single project. We custom fit our technology for our client's needs."
Robert W. Sloan III - Chief Executive Officer
As CEO, Robert is focused on growing the internationally known BioDAF brand which has provided more than 35 years of environmentally friendly and cost-effective water treatment solutions to numerous cities and industries around the world.
Robert brings more than 20 years of executive leadership in public and private companies with a proven track record of successfully growing companies both organically and through strategic acquisitions. Robert is known for his operational and financial expertise as well as his passion for building a positive company culture. Prior to joining BioDAF, Robert was Chief Operating Officer of Fountain Quail. Robert received his B.B.A. in Business Management from the University of Texas and holds a patent for an innovative water storage system.
Contact Robert at robert@biodaf.com
Marcos De la Monja Avila - Chief Operating Officer
In his role as COO, Marcos is responsible for the management and oversight at BioDAF including key strategic priorities and enterprise-wide initiatives. He oversees project delivery and collaborative sales and has more than 12 years of experience in the water industry working with clients and decision makers at all levels.
Marcos' work with BioDAF began in 2008 in Guadalajara, Mexico where he served as a Financial Analyst and Program Manager for BioDAF Mexico. His international business background coupled with his professional drive led him to expand BioDAF into the USA in 2014. Marcos has since worked with key influencers and decision makers in the water and wastewater industry to generate contracts to install water and wastewater treatment systems for local municipalities, private developments, industrial clients, and oil and gas companies around the USA.
Contact Marcos at marcosm@biodaf.com
Scott Arnold - Chief Financial Officer
Scott is a seasoned CFO with over 35 years of senior financial leadership through hands-on leadership at private and public companies in various businesses.  Scott has extensive startup experience and has been involved with numerous acquisitions and has been instrumental in several high growth businesses.  Scott is a licensed CPA in Wisconsin and Texas and graduated with a B.B.A.-Accounting from the University of Wisconsin-Milwaukee.
John Endendyk – Executive Vice President
John has been with BioDAF since January of 2019 and is primarily responsible for marketing, branding, and client management across the U.S. John works closely with the CEO and design/construction team to create market strategies and manage client expectations.
Prior to joining BioDAF, John was in the commercial real estate business for over 17 years and specialized in land development in the Austin, Dallas, Houston, and San Antonio markets. He has had experience in all four major markets with regards to land brokerage (both acquisition and disposition), development, entitlement, and consulting. His clients included multinational corporations, investment funds, public entities, family trusts, developers, homebuilders, lenders, and individual owners with assets across the land spectrum. John has been active in both the brokerage and development communities across Texas and has completed transactions in excess of $800 million in his career. He has also had experience in the sales and leasing of commercial properties, investment property sales, and property management.
Prior to co-founding Endland Properties Group, John was Senior Director of the Land Services Group at CASE Commercial Real Estate Partners with responsibilities for the brokerage of land at various stages of entitlement and development across the State of Texas. Previously, he was a Senior Associate with CBRE's Land Services Group and the CBRE Industrial Services Team.
Contact John at john@biodaf.com
Kyle Thornton-Hicks – Division President, Industrial
Kyle is a passionate industry executive with proven expertise in Leadership, Operations, Strategic Sales, Technology Development and Manufacturing. Kyle is primarily responsible for BioDAF's expansion in North American Industrial Water Markets. Prior to joining BioDAF, Kyle was the Global Product Line Director for Emerging Markets at Baker Hughes, a GE Company. Kyle has previously developed international markets for Fluid Transfer, Geothermal and Potable Water. Kyle is well known for her relentless drive for learning customer challenges and creating unique solutions to overcome these challenges.